Rolling Road Tuning Essex - Telephone Today : 01268 773377
ATSPEED Racing are one of the UKs leading Rolling Road Tuning Centres, based in Rayleigh, Essex, England.
Here at ATSPEED Racing we pride ourselves on getting the finest calibration out of our customer's cars, and are well respected and known within the industry for the high standard we produce, whether its road, race, or classic. Recommended tuners of Carburettors and mappable fuel injection systems by the manufacturers themselves. Historic and Vintage car tuning is also a speciality. Mechanically sympathetic personnel, who understand the fragility of historic machinery, but apply modern technology to ensure the optimum calibration.
Our 1000BHP Rolling Road and Dyno cell is one of the best equipped in the country, allowing accurate, computer controlled testing and calibration for almost all two wheel drive cars, up to over 1000BHP, using world leading technology.
No expense spared on any of our equipment and over 40 years experience in motorsport developments ensures the ultimate possible performance from your vehicle, Road, Race, Rally & Historic.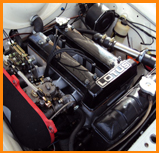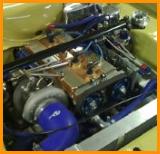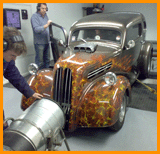 Our Services Include:
Motorsport Preparation
Competition Engines
Engine Mapping
Carburettor Tuning Including Bike Carbs and American cars
Turbo Conversions
Dyno Power Runs from £50+vat
Competition Car Maintenance
Club Dyno Days

Carburettor Servicing & Ultrasonic Cleaning
High Performance Aftermarket Product Sales
Suspension set ups for Road, Race, Rally, Short Circuit or Track Day
Kit Car Work Undertaken
Classic Car Work Undertaken
General Workshop Car Repairs & Servicing

Classic, Vintage and Historic Tuning Specialists

Product Sales